Coated Barbed Wire
Barbed wire is fully automated thorn rope machine twisting and weaving.Folk commonly known as tribulus, thorn wire, thorn line.Finished products: single screw and double screw.Raw material: high quality low carbon steel wire.Surface treatment process: electric galvanizing, hot galvanizing, plastic coating, plastic spraying.There are blue, green, yellow and so on.Application: used for boundary protection of grassland, railway, highway, etc.
Products information: Barbed wire twisted and weaved by high quality galvanized wire and PVC wire.
Feature: Galvanized Barbed wire offers a great protection against corrosion and oxidation caused by the atmosphere. Its high resistance allows greater spacing between the fencing posts.anti - corrosion, anti - aging, anti - sun, durability and other characteristics.
Patterns available: Single Twisted Barbed Wire/ Double Twisted Barbed Wire/ Traditional Twisted Barbed Wire.
Application: Barbed wire mainly used in protecting of grass boundary, railway, highway, wine, prison, etc.It is used for the separation and protection of the boundary of grassland, railway and highway, etc., it is beautiful and practical, and there are a variety of erection methods to choose from.
Material: high quality low carbon steel wire (galvanized, plastic coated, plastic sprayed), PVC wire twisting and weaving;There are blue, green, yellow and other colors, PVC thorn cord core can be galvanized wire and black wire.
Core: galvanized wire or black annealed wire
Colour: green, blue, yellow, orange, grey or others
Tensile strength: 30-45 kgs./sq.mm
Packing: 25kg or 50kg/plate, wrapped with P.V.C tape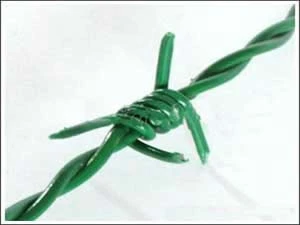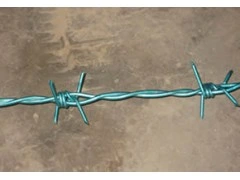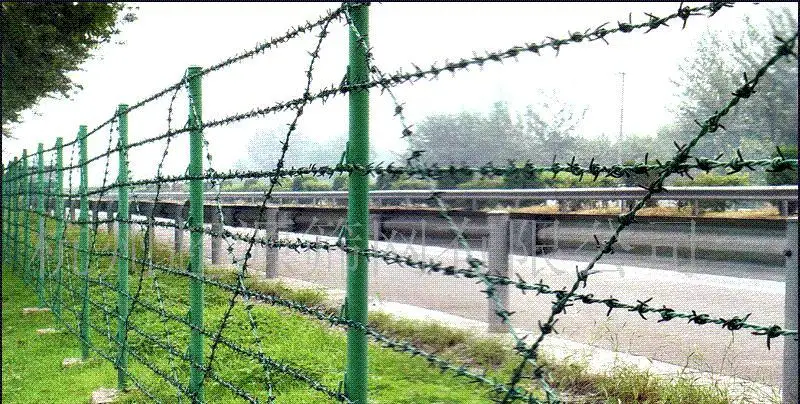 Type
Wire Gauge (SWG)
Barb Distance(cm)
Barb Length (cm)
PVC coated barbed wire,
PE barbed wire
Before coating
After coating
7.5-15
1.5-3
1.0mm-3.5mm
1.4mm-4.0mm
BWG11#-20#
BWG8#-17#
SWG11#-20#
SWG8#-17#
PVC PE coating thickness: 0.4mm-0.6mm; different colors or length are available at customers request.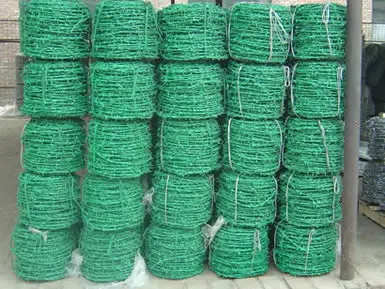 Company Profile