Expert design Tibial Interlocking Nails Oethopedic nails bone nails
| | | |
| --- | --- | --- |
| T40100608255 | Tibial Intramedullary Lock Screw(Hollow) | φ8.4*255 |
| T40100608270 | Tibial Intramedullary Lock Screw(Hollow) | φ8.4*270 |
| T40100608285 | Tibial Intramedullary Lock Screw(Hollow) | φ8.4*285 |
| T40100608300 | Tibial Intramedullary Lock Screw(Hollow) | φ8.4*300 |
| T40100608315 | Tibial Intramedullary Lock Screw(Hollow) | φ8.4*315 |
| T40100608330 | Tibial Intramedullary Lock Screw(Hollow) | φ8.4*330 |
| T40100608345 | Tibial Intramedullary Lock Screw(Hollow) | φ8.4*345 |
| T40100608360 | Tibial Intramedullary Lock Screw(Hollow) | φ8.4*360 |
| T40100608375 | Tibial Intramedullary Lock Screw(Hollow) | φ8.4*375 |
| T40100609255 | Tibial Intramedullary Lock Screw(Hollow) | φ9*255 |
| T40100609270 | Tibial Intramedullary Lock Screw(Hollow) | φ9*270 |
| T40100609285 | Tibial Intramedullary Lock Screw(Hollow) | φ9*285 |
| T40100609300 | Tibial Intramedullary Lock Screw(Hollow) | φ9*300 |
| T40100609315 | Tibial Intramedullary Lock Screw(Hollow) | φ9*315 |
| T40100609330 | Tibial Intramedullary Lock Screw(Hollow) | φ9*330 |
| T40100609345 | Tibial Intramedullary Lock Screw(Hollow) | φ9*345 |
| T40100609360 | Tibial Intramedullary Lock Screw(Hollow) | φ9*360 |
| T40100609375 | Tibial Intramedullary Lock Screw(Hollow) | φ9*375 |
| T40100610255 | Tibial Intramedullary Lock Screw(Hollow) | φ10*255 |
| T40100610270 | Tibial Intramedullary Lock Screw(Hollow) | φ10*270 |
| T40100610285 | Tibial Intramedullary Lock Screw(Hollow) | φ10*285 |
| T40100610300 | Tibial Intramedullary Lock Screw(Hollow) | φ10*300 |
| T40100610315 | Tibial Intramedullary Lock Screw(Hollow) | φ10*315 |
| T40100610330 | Tibial Intramedullary Lock Screw(Hollow) | φ10*330 |
| T40100610345 | Tibial Intramedullary Lock Screw(Hollow) | φ10*345 |
| T40100610360 | Tibial Intramedullary Lock Screw(Hollow) | φ10*360 |
| T40100610375 | Tibial Intramedullary Lock Screw(Hollow) | φ10*375 |

We are the professional manufacturer who have certifications and producing Locking Compression Plants System, Spine System, Metal Bone Plate System, Femur Neck Fixing System, Intramedullary nails system, surgical instrument with extremly high quality. Our company sticks to the guilding ideology of"relying on science & technology; Cherishing everlasting good faith"and sincerely cooperates with both domestic and overseas customers by providing high-quality products and high-grade service to benefit the mainkind!
We sincerely hope establishing long and friendly business relations with clients from all over the world. Our goal is not just providing product, but also providing a complete solution including product design, tooling, fabrication and service for our customers to achieve their upmost satisfaction.

Certificates: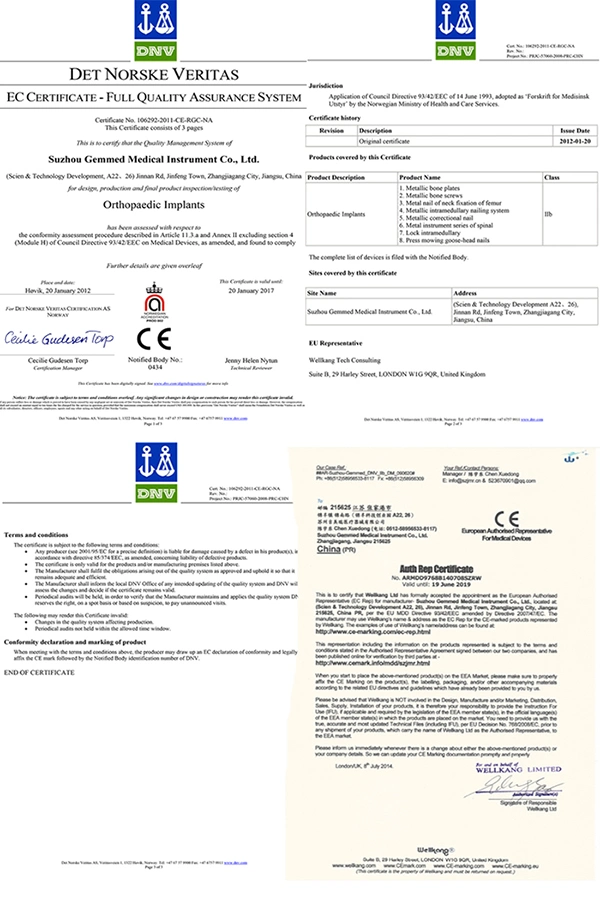 Packaging & Shipping:
PE bag ,the whole order will be put in cartons when shipping by express(FEDEX, DHL, TNT, EMS, UPS etc) or by air .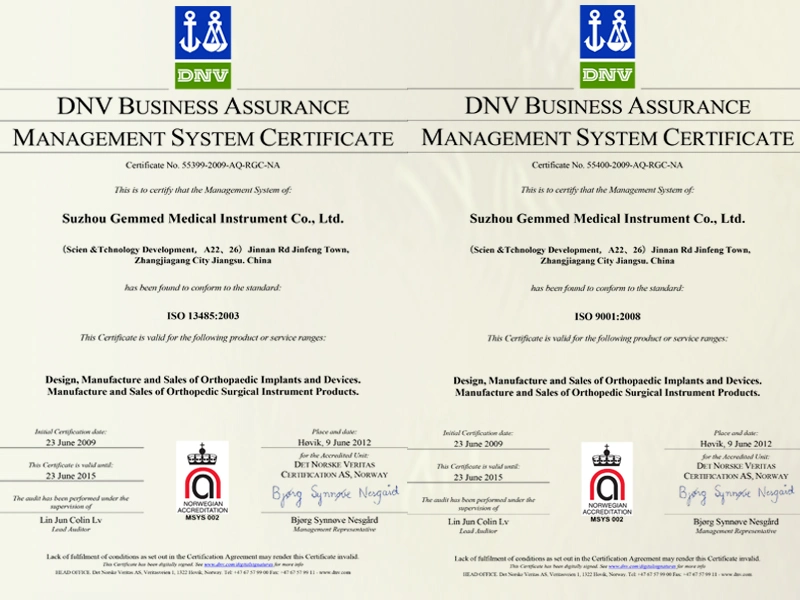 MOQ:
focus on both wholesale and retail, so there is no MOQ, also all of the regular products
on stock, and can be delivery within 2 or 3 days after received payment, we can produce the order if big requirement within one week
Question: Manufacturer or Trading Company ? Any certificates ?
Answer: We are Sino_US manufacturer since 1994 , With CE 0434 ,ISO 9001:2008 and ISO 13485:2003.and during applying USA FDA.
Question: Is it possible to Customized items ?
Answer: Yes .We have Profession team to handle this ,what you need to do is offer drawings or samples .
Question: Do you have enough inventory for regular items?
Answer: Generally, we have stock for every listed products, which were produced monthly. But it depends on our sales condition. Better to ask our salesman for accurate inventory information..