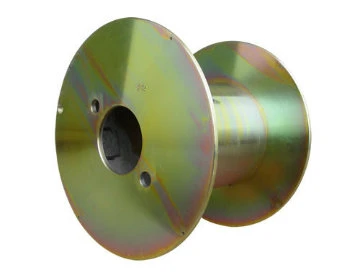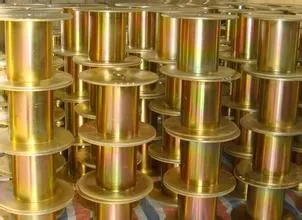 In accordance with GB4004-83, JB/T7600.3-94 and DlN46395 standards, the product is made of common carbon steel Q235 thick plate through assembly and welding, and machine finishing. The product has high rigidity of bobbin and high precision. Through dynamic test, the product has stable operation at high speed, and can be used for high-speed drawing-wire machine and wire stranding machine.


Product description
1. matching speed stranding machine or drawing machine;
2. high-speed machines with disk, good balancing:
3. solid and durable;
4. Special sizes can be customized according to customer requirements;
5.We can provide professional advice based on your wire and machine speed.

Technical Specification
Serial Number
Specification Model
Lateral Plate Diameter D1
Major Diameter D2
Axle Hole Diameter D4
Carrying Hole Diameter D5
Center Distance E of Axle Hole and Carrying Hole
External Width L1
Internal Width L2
Remarks
1
285
285
130
165
127
18
180
260
240
Thin Extend Shaft
2
300
300
130
165
127
18
180
270
250
Thin Extend Shaft
3
335
335
165
217
127
18
180
270
250
Thin Extend Shaft
4
400
400
217
270
125
127
18
100
270
250
Middle Extend Shaft
5
500
500
217
270
125
127
22
130
320
300
Middle Extend Shaft
6
630
630
350
420
125
127
28
200
430
400
Twist Extend Shaft
7
300
300
130
165
56
8
100
290
270
Twist Extend Shaft
8
335
335
130
165
56
8
100
290
270
Twist Extend Shaft
9
400
400
165
217
70
16
170
270
250
Extend Shaft
10
500
500
217
270
80
16
100
320
300
Extend Shaft
11
560
560
270
295
80
18
120
355
329
Extend Shaft
12
610
610
270
320
80
22
170
360
336
Extend Shaft
13
630
630
355
450
125
127
28
200
360
336
Extend Shaft
14
710
710
400
500
125
127
28
100
530
450
Extend Shaft
15
800
800
450
560
125
127
28
100
600
500
Extend Shaft