OTR Tube
| | |
| --- | --- |
| Size | Weight(KG) |
| 26.5-25 | 23.0 |
| 23.5-25 | 18.0 |
| 20.5-25 | 15.5 |
| 17.5-25 | 10.5 |
| 15.5-25 | 10.5 |
| 1800-25 | 18.0 |
| 1600-25 | 10.5 |
| 1600-24 | 7.0 |
| 1400-24 | 7.2 |
| | |
| --- | --- |
| 1400-20 | 6.4 |
| 16/70-24 | 7.2 |
| 16/70-20 | 6.0 |
| 20.5/70-16 | 3.3 |
Truck and Forklift Tube
| | |
| --- | --- |
| Size | Weight(KG) |
| 1200-24 | 5.8 |
| 1100-22 | 4.2 |
| 1200-20 | 4.4 |
| 1100-20 | 4.0 |
| 1000-20 | 3.75 |
| 900-20 | 3.2 |
| 825-20 | 2.3 |
| 7.00/7.50-20 | 2.2 |
| 7.00/7.50-20 | 2.1 |
| | |
| --- | --- |
| 8.25-16 | 2.1 |
| 7.50-16 | 1.8 |
| 6.50/7.00-16 | 1.7 |
| 6.00/6.50-16 | 1.7 |
| 6.50/7.00-15 | 1.6 |
| 5.50/6.00(175/185)-13 | 0.9 |
| 6.00/6.50(185/195)-14 | 1.1 |
| 8.25-15 | 2.3 |
| 28*9(815)-15 | 1.6 |
| 8.25-12 | 1.7 |
| | |
| --- | --- |
| 7.00-12 | 1.4 |
| 6.50-10 | 1.0 |
| 7.00-9 | 1.1 |
| 6.00-9 | 0.9 |
| 5.00-8 | 0.8 |
| 4.00-8(Wheel Barrow Tube) | 0.4 |
Agricultural Tube
| | |
| --- | --- |
| Size | Weight(KG) |
| 23.1-26 | 22.0 |
| 20.8-38 | 15.0 |
| 18.4-38 | 14.0 |
| 18.4-34 | 13.5 |
| 18.4-30 | 13.0 |
| 18.4-26 | 12.0 |
| 16.9-38 | 13.5 |
| 16.9-34 | 13.0 |
| 16.9-30 | 9.5 |
| | |
| --- | --- |
| 16.9-28 | 9.0 |
| 16.9-24 | 6.8 |
| 15.5-38 | 11.0 |
| 15-24 | 8.9 |
| 14.9-30 | 9.0 |
| 14.9-28 | 8.5 |
| 14.9-24 | 6.6 |
| 13.6-38 | 10.0 |
| 13.6-28 | 5.4 |
| 13.6-24 | 5.0 |
| | |
| --- | --- |
| 12.4-28 | 5.2 |
| 12.4-24 | 4.8 |
| 12-38 | 6.8 |
| 11.2-38 | 6.8 |
| 11.2-28 | 4.6 |
| 11.2-24 | 3.7 |
| 9.5-24 | 2.8 |
| 9.5-20 | 2.3 |
| 8.3-24 | 2.7 |
| 8.3-20 | 2.2 |
| | |
| --- | --- |
| 750-20 | 2.2 |
| 750-16 | 1.8 |
| 750-16 | 1.6 |
| 600-16 | 1.5 |
| 600-12 | 1.0 |
| 500-12 | 0.86 |
| 650-20 | 1.9 |
| 650-16 | 1.7 |
| 650-16 | 1.5 |
| 400-14 | 0.75 |
| | |
| --- | --- |
| 400-12 | 0.7 |
| 500-16 | 1.1 |
| 500-14 | 0.75 |
| 450-16 | 1.1 |
QINGDAO WANGYU RUBBER CO., LTD was established in 1996 in Qingdao,China.
It has been in the bias tires business for nearly 20 years.
Main products: OTR & Industrial & Agricultural & truck tires, inner tubes and flaps.
Brand: TOP TRUST, ALL WIN and SUNNINESS
Export volume: >=110HQ per month
Main market: Europe, America, Middle East, Southeast Asia, Africa, Russia
Experienced stuff: 620 employees, 78 professionals included, 30 quality inspectors.
Factory: 100,000sqm, 8 warehouses
Certificated by the US DOT, European ECE, IOS and Chinese CCC.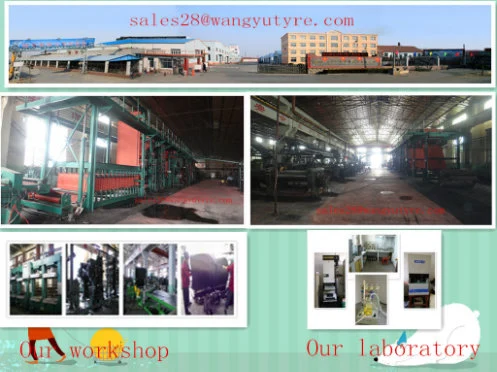 Below are the best selling products.
OTR tyres: L-3, L-5 and G-2 series, with tube and tubeless ones.
Industrial tyres: Inflated and Solid forklift tyres, L-2 skid steer/ bobcat tyre, R4 tubeless tyre,
R3 road roller tyre.
Agricultural tyres: R-1 tractor tyre, F2 direction tyre, F3 and I-1 implement tyre.
TBB: All sizes of truck and bus bias tyres
LTB: All sizes of light truck bias tyres
Tube: Natural rubber and butyl ones for all sizes
Flap: All sizes of flaps are available.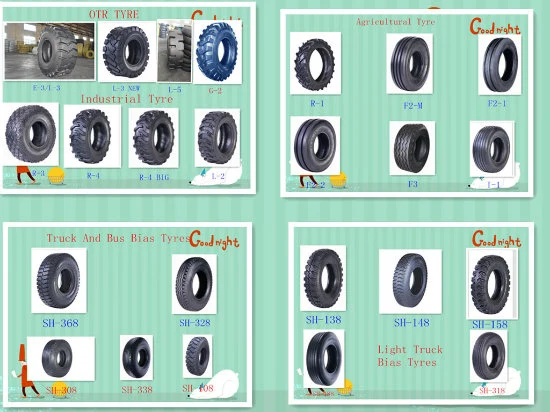 We are Premier member of Alibaba and Made-in-China.
Besides, we go to many tyre exhibitions at home and abroad.
At home: Spring and Autumn Canton Fair, twice Shanghai Tyre exhibition, Guangrao and Qingdao Tyre Exhibition.
Abroad: Equip Auto in Alger, Algeria (March), Sao Paolo Tyre show in April, Dubai Automechanica in June, Panama Latin American Tyre show in July, Las Vegas SEMA show in November.

Please don't hesitate to come to us if you have any need of our products.

You will be greatly welcomed if you come to visit our factory or our booth in the exhibition.

Looking forward to our cooperation.
For more information, please visit wangyutire.en.made-in-china.com
Please feel free to contact, I'm ready at your service.
Here is the contact detail:
Name: Frank Ma
Tel: 0086-532-85938508
Fax: 0086-532-85938328
Mob: 0086-18661865271