Lamella Tube Inclined Plate Settler
1. Product Introduction
The tube settler produced by our company uses EPR copolymer plastic as the material, it was hot drawn into slope tube by a infrared thermal machine, and then using patented technology and high frequency to weld into a whole product, our staff will carry on-site installation for customer.
Lamella tube inclined plate settler is mainly used for a variety of precipitation and sand removing. For a decade, it is a water treatment device that's widely used in the drainage works. It has the advantages of being suitable for a wide range, high treatment efficiency, small footprint.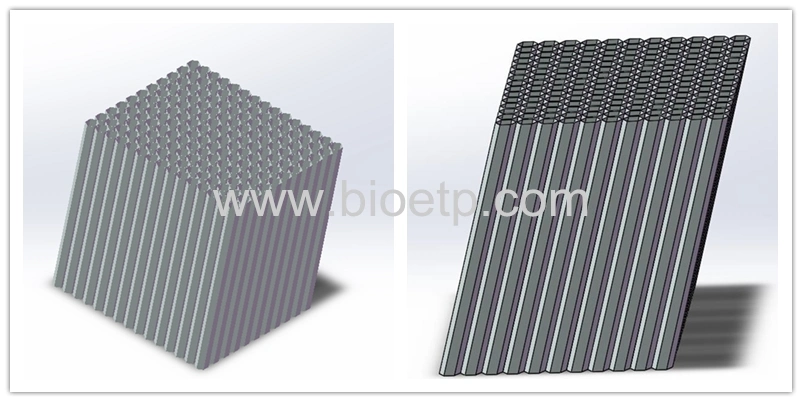 2. Main Features
1. Large wetted perimeter, hydraulic radius is small.
2. The laminar good condition, particles falling from flocculent flow interference.
3. When the tube for 1 m long, effective load by 5 tons/square meter design. And V control in 2.5- 3.0 mm/SEC effluent water, within the scope of the best.
4. In the water inlet place inclined pipe length, the honeycomb 2.0-3.0 meters, may in the 50-100 kg/m3 clay sand content of high turbidity safe operation of processing.
5. The plastic inclined packing, which the processing ability is to destabilize the flat streaming traps three to five times, accelerate the clear pool and pulse clarify pool two to three times.
6. The material is with UV radiation protection.
3. Technical Parameter
Size(mm)

Thickness(mm)

Sheet Quantity(pcs/m3)

Specific Surface Area

φ35

0.4

40

109

0.45

40

109

0.5

40

109

φ50

0.4

30

87

0.45

30

87

0.5

30

87

0.55

30

87

0.6

30

87

φ80

0.6

20

50

0.65

20

50

0.7

20

50

0.8

20

50
4. Packing & Delivery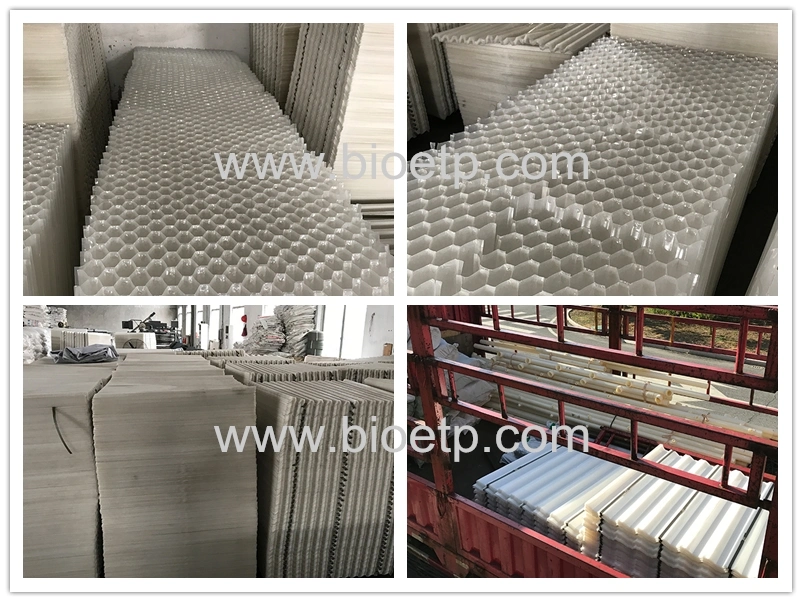 5. About us
Wuxi Qiuyuan Environmental Engineering Co., Ltd, locating in China Environmental Town, Yixing city, is a specialized in designing, installation and commissioning full project for industry wastewater treatment, sewage water treatment and odorous air (VOCs) abatement solutions.

We are manufacturing: Multi-disc screw-press dehydrators and decanter for sludge dewatering. DAF system and magnetic separator water clarifying. Automatic chemical dosing-adding system. DDBD(non-thermal plasma double dielectric barrier discharge reactor), chemical washing scrubber, biofilter tank and packing materials.

Products we supply also: Air blower, air diffuser, flow booster, water pump, packing material for ETP tank, coagulant PAC, flocculant PAM, chemical dosing tank, metering pump.

We have 3 factories, 20 engineers and more than 100 workers. We have technical support from doctors of Zhejiang University to supply proper design, fast installation and commissioning and efficiency feedback. Service will always be available.
6. Contact us
Wuxi Qiuyuan Environmental Engineering Co., Ltd.
Add: Zhoutie Industry Zone, Yixing City, Jiangsu Province, P.R. China